Areva's Story
Our Generator Cria
Friday, September 18, 2009 was an exciting day at Penn Croft Alpacas. Long Lane was shut down in anticipation of the much-advertised Three Mile Island Generators passing by. Our daughter stayed home from school to watch the event and set up for the apples and ciders for the generator crew as they passed.
People started showing up around 7:00 AM, including a woman who had grown up in our farmhouse. Our most pregnant female, Aurora, was three days overdue, but because her last cria was five weeks overdue, we were not anticipating any action from her.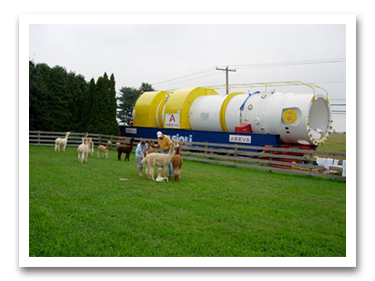 More bystanders were coming to visit the new mom and cria. A couple of workers walking between the two generators suggested naming the cria Areva. At that point we didn't even know she was a girl yet. On the second generator a worker threw his camera to me to take a closer picture of Aurora and Areva. The name stuck.
My father-in-law was there to see the generators and he captured the morning in the photos that you see. We sent the photos to uLocal at WGAL where they were posted and caught someone's eye.
A couple days later, Meredith Jorgensen who had been following the generators for WGAL, came to the farm to meet Aurora and Areva, and she and a cameraman taped some footage in our barn. It was on the news that evening. It was quite an exciting few days at Penn Croft Alpacas.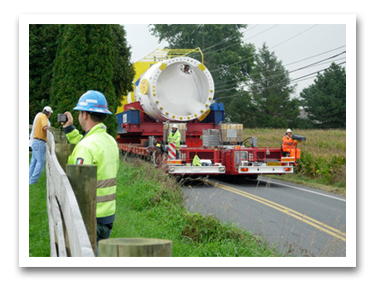 Just minutes before the generators were to arrive, an onlooker appeared outside our pasture. Our daughter went to investigate. As she got close to him, he informed her there was a new cria. We had two crias born in July, so she thought he was referring to one of them, but she went to investigate and she saw a newborn cria.
My daughter called to me to say Aurora had had her cria and I rushed to see. It was obvious the cria had just been born because there was little movement except breathing. We quickly dried it off with towels to warm it and it started to move a bit. As it was sitting up, the first generator began to go by the farm. The generator and the workers on the trailer were eyelevel with the pasture even though the road is quite a bit below the pasture. The workers on the trailer noticed the excitement in the pasture and came over to take pictures of Aurora and her cria.